What the Forever GI Bill Means for Guardsmen and Reservists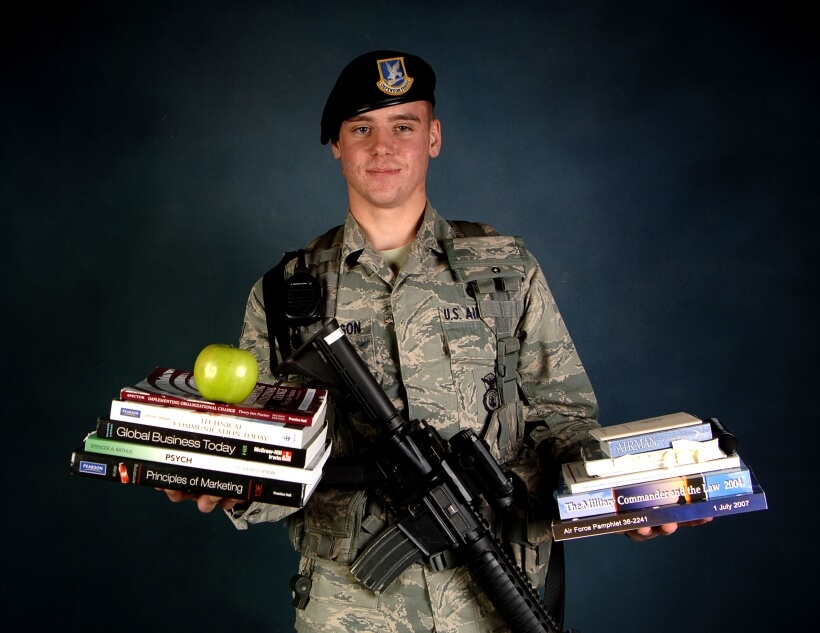 For Guardsmen and Reservists, qualifying for the Post-9/11 GI Bill is about to get easier. And for many, the benefits will be better.
On Aug. 16, President Donald Trump signed the so-called "Forever GI Bill" into law. His signature follows unanimous votes in both the House and Senate to approve the law.
The Harry W. Colmery Veterans Educational Assistance Act of 2017, as it's officially named, includes major expansions to the GI Bill, the first since the 2008 Post-9/11 GI Bill. At its core, the legislation lifts the 15-year expiration on using the GI Bill for tuition assistance, thus making it a lifetime benefit for all active military members and retroactive for veterans who retired after Jan. 1, 2013. But there are many other expansions to the bill, some of which affect Guard and Reserve members specifically.
Most significantly for Reserve Component (RC) members, there are new avenues for attaining active duty status that count toward GI Bill benefits. Previously, only those called to active duty under presidential order for national emergencies were eligible, but the benefit now applies to other types of mobilization as well.
The crux here is in 10 USC § 12304, the mobilization authority adopted in 2012 that made it easier to call up Guardsmen and Reservists to active duty for situations not necessarily tied to armed conflicts or national emergencies. This led to deployment scenarios in which active-component troops would accrue GI Bill credits, while the RC members working alongside them would not.
"We work the same hours as active duty people doing the same job," remarked one Marine reservist in a 2016 Stars and Stripes article. His seven-month deployment to Honduras did not qualify him and 300 other members of his unit for education benefits. "The government is saying our sacrifice isn't worth as much as it is for those on active duty. But we leave behind families and our civilian careers too."
The Forever GI Bill rectifies this. Now, RC members called to active duty by a governor in response to an emergency or natural disaster (12304a) or when the DoD mobilizes RC members in support of a combatant command (12304b) are also eligible.
This expansion of benefits retroactively applies to all RC members mobilized after Aug. 1, 2009, but payment for classes does not begin until after Aug. 1, 2018.
Also of note to RC members, the bill allows certain members who had been receiving Reserve Education Assistance Program (REAP) benefits, which was phased out in November 2015, to transition to benefits under the Post-911 GI Bill.
In addition to these reserve-specific provisions, a number of major overhauls impact a wider swath of Service members. This list captures some of the highlights:
Awards Purple Heart recipients GI Bill eligibility regardless of active duty time served
If you've received a Purple Heart, you are eligible for the GI Bill, no matter how long you've served.
Increases payment for certain benefit tiers
If you've served on active duty for less than 36 months but more than 90 days, you'll get partial benefits based on a tiered payment system. In the new law, those who've been on active duty more than 90 days but less than 6 months will see their payments bumped from 40 to 50 percent of the maximum amount payable, while those active between 6 months and 12 months will see a 50 to 60 percent payment increase.
Provides extra funds for students in STEM (Science, Technology, Engineering, and Math) programs
The law establishes the Edith Nourse Rogers Scholarship, which offers $30,000 to STEM program enrollees who have used up all their GI Bill benefits and have at least 60 semester/90 quarter hours credit toward a STEM degree. It also will pay those who already have a STEM degree and are working on a teaching certification and establishes the High Technology Pilot Program, which, under certain circumstances, provides full education benefits to training programs not necessarily associated with a school.
Extends the Yellow Ribbon Program to recipients of the Fry Scholarship
The new law connects two important aspects of the Post-9/11 GI Bill. The Fry Scholarship is available to spouses and children of Service members who have died in active duty after Sept. 11, 2001. Scholarship recipients can now take advantage of the Yellow Ribbon Program, which provides funding for students to attend participating private institutions and graduate programs.
Restores benefits lost at schools that close
If you're receiving education benefits and your institution abruptly closes during a semester, you'll get your full benefits back for that semester.